Family-owned since April 1991
608-356-8689
Community excavators who care
Years ago Ralph Blum, Dean's dad, started a business called Ralph Blum & Sons. In 1991, Dean decided to buy some of Ralph's equipment and his pole shed. Our business was then named Dean Blum Excavating Inc.
We have been in business for 28 years and things have changed quite a bit.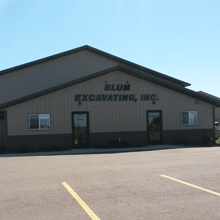 The estimate process for pricing has changed over the years. Today, an estimate is requested on paper so it can be taken to the bank.
The bank has to OK it, then the service is completed and we are paid by the bank or sometimes the individual.
We are also appropriately bonded to complete work for cities, towns and villages.
In 2013, we sold the pole shed we bought in 1991 and have relocated to 1700 W. Pine Street in Baraboo.
We now have our office, mechanic's workshop, employee break room and storage shed at this 6 acre location.
We employ approximately 12 people and our business has been thriving.
We want you, our customers, to be satisfied with the outcome of your excavation project and thus we'll work with you until you reach your desired result.
This may involve returning to the site and fixing any issues.
We hope to continue to make our customers happy and to be successful in the future. Please spread the word about us!